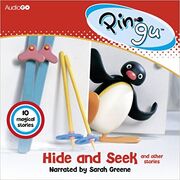 Hide and Seek
is a CD featuring ten Pingu stories narrated by Sarah Greene. It was released by AudioGO.
Description
This title provides ten wonderful adventures from the hugely popular TV series. It includes: "Hide and Seek", "School Time", "Pingu and the Barrel Organ", "Pingu's Ice Cave", "Pingu Plays Fish Tennis", "Pingu Runs Away", "Pingu and Pinga Stay Up", "Noise", "Grandpa is Ill" and "Pingu and Pinga at Home". It is specially adapted for audio and narrated by Sarah Greene. It is recreated for audio by Chris Allen. This recording previously featured on sides 3 and 4 of "The Adventures of Pingu".
Trivia 
Ad blocker interference detected!
Wikia is a free-to-use site that makes money from advertising. We have a modified experience for viewers using ad blockers

Wikia is not accessible if you've made further modifications. Remove the custom ad blocker rule(s) and the page will load as expected.