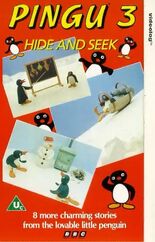 Pingu 3: Hide and Seek
is the third UK VHS Pingu released by BBC Video on 5 October 1992. It contains 8 episodes of the
first season
. The running time is 42 minutes.
Synopsis
He's friendly! He's Cuddly! He's Lovable! And he's back on BBC Video once more! He's PINGU!  And what an exciting life he leads all day on the South Pole with his friends and family! Whether he's playing games with his friend the seal, having trouble at school or learning how to sledge really fast, he's always having fun! So why not come and join him for eight more exciting adventures?
Episodes
Goofs
The cover has a scene from Barrel of Fun. But that episode isn't on the video.
Ad blocker interference detected!
Wikia is a free-to-use site that makes money from advertising. We have a modified experience for viewers using ad blockers

Wikia is not accessible if you've made further modifications. Remove the custom ad blocker rule(s) and the page will load as expected.