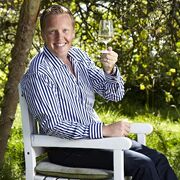 Olly Smith
(born in Darlington, England, UK, September 18th, 1974) was an episode writter for
Pingu
. He is best known as a wine expert, appearing in various cooking shows "Saturday Kitchen Live" on BBC1. When he appeared on "Pointless Celebrities" with Jilly Goolden, he reminded the audience of his work in writting for "Pingu" and various other children's shows like "Charlie and Lola", "Meg and Mog" and "The Koala Brothers". He also used to be a voice artist for some shows like "The Amazing Adrenalini Brothers".
Episodes 
Gallery
Ad blocker interference detected!
Wikia is a free-to-use site that makes money from advertising. We have a modified experience for viewers using ad blockers

Wikia is not accessible if you've made further modifications. Remove the custom ad blocker rule(s) and the page will load as expected.