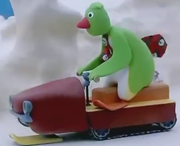 Pingj's Brother
uses his
tractor sledge
to visit places.
It only appeared in Pingu At The Wedding Party, when he was rushing to get to the wedding, grabbing a bouquet from a flower stall as he goes past. Then the bride spots him and the others turn to look. He is momentarily distracted when his tie covers his eyes, causing him to crash into a block of ice, which sends him and the bouquet flying. He ends up sitting on the ice next to the bride, who catches the bouquet as it bounces off his head. Later, Pingu and Pingj had sneaked off before the end and they played a vague tune of "Here Comes the Bride" on the horn and track of the crashed sledge.
Ad blocker interference detected!
Wikia is a free-to-use site that makes money from advertising. We have a modified experience for viewers using ad blockers

Wikia is not accessible if you've made further modifications. Remove the custom ad blocker rule(s) and the page will load as expected.