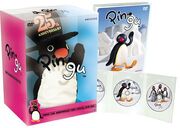 Pingu 25th Anniversary: A Very Special DVD Box
 (Japanese:
ピングー25周年記念ベリースペシャルDVDボックス
)  was a Japanese 3-disc box released by
Sony Creative Products Inc.
 to 
celebrating 
Pingu
's 25th Anniversary. 
It was only available for a limited time. It also came with a Pingu plush wearing a hat, a postcard, a sticker and a booklet. 
Disc 1 and Disc 2 contains 13 episodes from Season 5 and Season 6 . Disc 3 contains "A Very Special Wedding".
Ad blocker interference detected!
Wikia is a free-to-use site that makes money from advertising. We have a modified experience for viewers using ad blockers

Wikia is not accessible if you've made further modifications. Remove the custom ad blocker rule(s) and the page will load as expected.