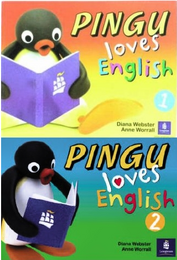 Pingu Loves English
was a two-stage course which incorporates clear illustrations and videos, and recycles new and known language for children learning English as a foreign language. It was made by Longman around 2000.
A video series of it was produced by Big Heart Media. It contains 12 episodes from Pingu presented by Polly the Polar Bear.
Goofs
Pingo is called Pengy in the video series.
Gallery
Ad blocker interference detected!
Wikia is a free-to-use site that makes money from advertising. We have a modified experience for viewers using ad blockers

Wikia is not accessible if you've made further modifications. Remove the custom ad blocker rule(s) and the page will load as expected.