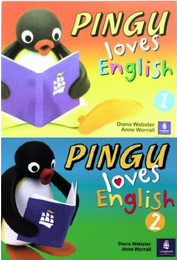 Pingu Loves English
was a two-stage course which incorporates clear illustrations and videos, and recycles new and known language for children learning English as a foreign language. It was made by Longman around 2000.
A video series of it was produced by Big Heart Media. It contains 12 episodes from Pingu presented by Polly the Polar Bear, with some added voice overs.
Goofs
For some strange reason, Pingo & Pinga's names are changed in the video series.
Gallery